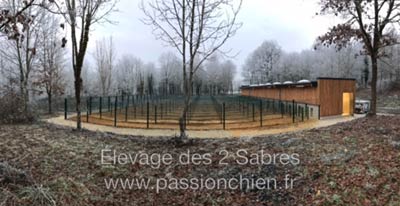 Our philosophy at "des 2 Sabres" : BRAVERY - EFFICIENCY - LOYALTY
Our Malinois are mainly destined to work, whether in bitework and obedience competition or in tracking, guard and surveillance activities.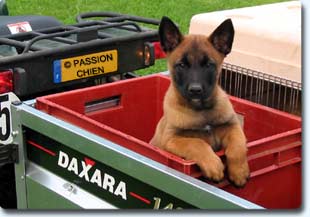 Being psychologically balanced, they can also become pleasant companions able to fit in a human family.
Also at your disposal, we have bitework pre trained puppies and trained adults.
Subscribe to our youtube.com/PassionChien61 chain to keep all the videos of our breeding malinois

Photos, competition results and news from our malinois are on facebook.com/2sabres,
join us and share it...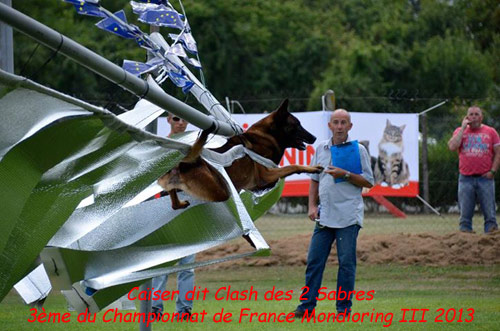 Our malinois champions born in "Les 2 Sabres" kennel :
Abrévations :
MR = Mondioring (the number is the level)
FR = French ring (the number is the level)
PF = French tracking (the number is the level)
Camp. = Campagne (the number is the level)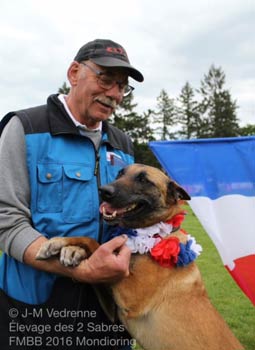 Extra des 2 Sabres à Christian Cabenet
(S'Léon des P. de Thiérache & Clara des 2 Sabres)
FMBB World Champion in MR3 in 2017
2X Champion of France in MR3 in 2014 & 2018
Winner of the cup of France in MR3 in 2014
Vice-Champion of France in MR3 in 2016
FMBB World Champion in MR3 by team in 2016 & 2017
FMBB World Vice-Champion in MR3 by team in 2018
Multi-finalist of FCI word Championship in MR3 in 2014 & 2016 (3d)
Multi-finalist of France Championship in MR3 in 2014 (1st), 2015, 2016 (2d), 2017 & 2018 (1st)
Multi-finalist of FMBB word Championship in MR3 in 2016, 2017 (1st) & 2018
Finalist of France Championship in campagne in 2014
Champion of South groupe (selectif) 2014 & 2016 in MR3
3 X Winner of Challenge Destailleur 2014, 2015 & 2016 in MR3
3 X France Champion of Belgium Shepherd 2014, 2015 & 2016 in MR3
Challenge Détailleurs 2014 (1st), 2015 (1st), 2016 (1st) & 2017 (2d) in MR3
Selectifs Ring3 in 2012 & 2013 (including 1 win)
First competition in Mondioring 3 in 2013
First competition in Ring 3 in 2011

Caïser dit "Clash" des 2 Sabres à Fabrice Basnier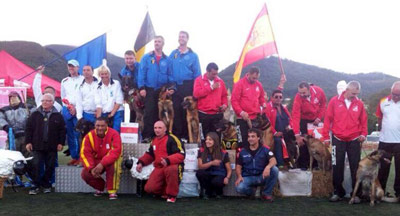 (Uhlan du C. aux Acacias & Rebelle du B. des Hermelles)
Winner of the cup of France in Mondioring 3 in 2015
FCI World vice-champion by team in MR3 in 2013 & 2014
Multi-finalist of FCI world Championship in MR3 in 2013 (6th) & 2014 (10th)
Multi-finalist of France Championship in MR3 in 2011, 2013 (3d), 2014 (5th), 2015 (5th), 2016 & 2017
Multi-finalist of FMBB world Championship in MR3 in 2011, 2013 & 2014 (3d)
Champion of North groupe (selectif) in Mondioring 3 in 2014
Challenge Détailleurs in MR3 in 2011, 2013 (2d), 2014 & 2015
Regional vice-champion of Normandie in Mondioring3 in 2015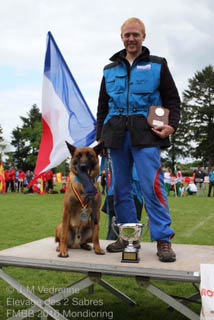 Regional Champion of Normandie in Mondioring 3 in 2014
Selectifs Ring 3 in 2012
Regional Champion of Limousin in Ring 3 in 2011
First competition in Ring 3 & Mondioring 3 in 2010

Hot Dog des 2 Sabres à Fabrice Basnier
(Caplan des 2 Sabres & Fat Mama des 2 Sabres)
Champion of France in MR3 in 2019
Winner of the cup of France in MR3 in 2019
FMBB World Vice-Champion in Mondioring 3 in 2016
FCI World Champion in MR3 by team in 2018
FMBB World Champion in MR3 by team in 2016 & 2017
FMBB World Vice-Champion in MR3 by team in 2018
FCI World Vice-Champion in MR3 by team in 2017
Finalist of France Championship in Ring 3 in 2018
Selectifs Ring 3 in 2018
First competition in French Ring 3 in 2017
Multi-finalist of FCI world Championship in MR3 in 2016, 2017 & 2018 (4e)
Multi-finalist of France Championship in MR3 in 2016 (3d), 2017 (3d), 2018 (4th) & 2019
Multi-finalist of FMBB world Championship in MR3 in 2016 (1st ex), 2017, 2018 & 2019
Champion of North groupe (selectif) in Mondioring 3 in 2016
Winner of Challenge Destailleur 2018 in MR3
France Champion of Belgium Shepherd 2018 in MR3
Challenge Détailleurs in MR3 in 2015 (2d), 2016 (5th) & 2017 (4th)
Regional Champion of Normandie in Mondioring 3 in 2015 & 2017
First competition in Mondioring 3 in 2015
Winner of the Grand Prix of France Mondioring 2 in 2015
Finalist of FMBB world Championship in MR2 in 2015
Second of the International Grand Prix in MR1 in 2014
Winner of the France Grand Prix in Mondioring 1 in 2014
Second of the FMBB world Championship in MR1 in 2014

Cerdan des 2 Sabres à Max Certain
(R'tonn Senna du C. aux Acacias & Rebelle du B. des Hermelles)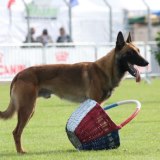 Finalist of France Championship in Ring 3 in 2010
Selectifs Ring 3 in 2010 (including 2 wins)
Vice-champion of DOM TOM in Ring 3 in 2009
First competition in Ring 3 in 2008 (18 months)

Garry des 2 Sabres à Laurent Dubuche
(Caplan des 2 Sabres & Dina des 2 Sabres)
Sélectifs Ring 3 in 2014, 2015 (including 1 win) & 2016 (including 1 win)
Regional senior champion Ile-de-France in Ring 3 in 2014
Regional junior champion Ile-de-France in Ring 3 in 2013
First competition in Ring 3 in 2013

Barbak des 2 Sabres à Damien Dubois
(S'Léon des P. de Thiérache & Rebelle du B. des Hermelles)
World vice-champion FMBB by team in Mondioring 3 in 2015
World vice-champion by team in Mondioring 3 in 2014
Finalist of word championship in Mondioring 3 in 2014 (7th)
Finalist of France championship in Mondioring 3 in 2014 (6th)
Finalist of world championship FMBB in Mondioring 3 in 2015
Challenge Détailleurs 2014 & 2015 in Mondioring 3
Sélectifs Ring 3 in 2013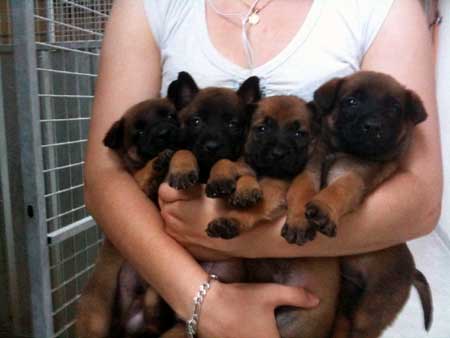 First competition in Mondioring 3 in 2013
First competition in Ring 3 in 2011

Caplan des 2 Sabres à Gilbert Quéro
(Viper du B. des Hermelles & Pataha du G. Germancé)
Finalist of France Championship in Ring 3 in 2010
Selectifs Ring 3 in 2010, 2011, 2012, 2013 & 2014 (including 1 win)
First competition in Ring 3 in 2009

Craps des 2 Sabres à Bernard Bouchez
(Viper du B. des Hermelles & Pataha du G. Germancé)
Selectifs Ring 3 in 2010, 2011, 2012, 2013 & 2014 (including 1 win)
First competition in Ring 3 in 2009

Campo des 2 Sabres à David Puygrenier
(Voltaire des B. d'Écouves & Auda du Clos des 3 Rivières)
Selectifs Ring 3 in 2011, 2012, 2013, 2014 & 2015 (including 1 win)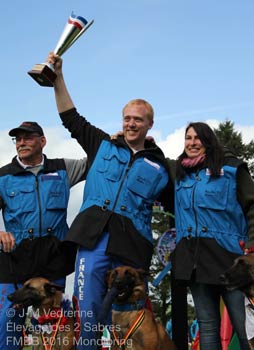 First competition in Ring 3 in 2009

Fuji des 2 Sabres à Cédric Caron
(Caplan des 2 Sabres & Bahia du P. Sentier)
Sélectifs Ring 3 in 2014 & 2015
Regional champion Centre in Ring 3 in 2014
Regional vice-champion Centre in Ring 3 in 2013
First competition in Ring 3 in 2013

Fahrenheit des 2 Sabres à Didier Fanizza
(Caplan des 2 Sabres & Aktion des B. d'Écouves)
Sélectifs Ring 3 in 2014 & 2015
First competition in Ring 3 in 2013

Diako des 2 Sabres à Bernard Diakowski
(Voltaire des B. d'Écouves & Bahia du P. Sentier)
Finalist of France championship in Mondioring 3 in 2017
Challenge Détailleurs 2015 in Mondioring 3
First competition in Mondioring 3
Sélectifs Ring 3 in 2014 & 2015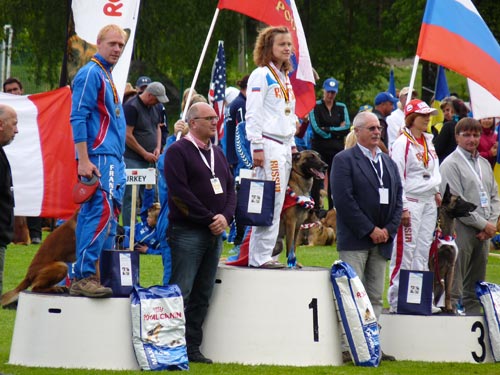 First competition in Ring 3 in 2013

Ed'J des 2 Sabres à Stéphanie Renaudin
(Uhlan du C. aux Acacias & Big Mama des 2 Sabres)
Sélectifs Ring 3 in 2014, 2015 & 2016
First competition in Ring 3 in 2013

Farouk 2 Sabres à Marc Morin
(S'Léon des P. de Thiérache & Câline des 2 Sabres)
Sélectifs Ring 3 in 2015
First competition in Ring 3 in 2013

E.T. des 2 Sabres à Eugène Magdelonette
(Viper du B. des Hermelles & Bimbo des B. d'Écouves)
Sélectifs Ring 3 in 2013
Regional junior champion Ile-de-France in Ring 3 in 2012
First competition in Ring 3 in 2012

Cambronne des 2 Sabres à Jean-Claude Bouterige
(Voltaire des B. d'Écouves & Auda du Clos des 3 Rivières)
Sélectifs Ring 3 in 2012 & 2013
First competitionin Ring 3 in 2010

Dino des 2 Sabres à Laurent Mainfroid
(Uhlan du C. aux Acacias & Big Mama des 2 Sabres)
Sélectifs Ring 3 in 2012
First competition in Ring 3 in 2011

Ciral des 2 Sabres à Alexandre Pignon
(Voltaire des B. d'Écouves & Auda du Clos des 3 Rivières)
Champion of France Military Navy 2012 & 2013